Lee Moon Young


Gender
Female
Hair Color
Pink
Height
177 cm
Weight
59 kg (130 lbs)
Occupation
Student
Debut
Chapter 1
School
Wild's High
School Club
Boxing Club
Year
2nd
Fighting Style
Boxing
Rank
S-Class

Lee Moon Young is an S-Class Wild's High School second year student, where she is the president of the boxing club and Queen's best friend and confidante. She has a friendly rivalry with Choi Dal Dal over martial arts and the attention of the series' protagonist, Song Jae Gu.
Appearance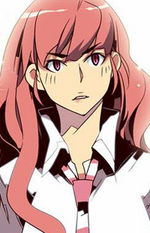 Lee Moon Young is often seen wearing a red tracksuit and her hair tied up in a loose, messy bun at the top of her head. When fighting, she often only wears a tank top and shorts.
After having her S-Class rank temporarily revoked, she is forced to wear a normal school uniform. When Jae Gu notes that she looks strange in it, she pulls down her bun, revealing her long, wavy hair.
Personality
She is loud, rambunctious, and outgoing, as opposed to the reserved personality that Queen shows. However, when she is fighting seriously, she becomes a very powerful and frightening opponent, well-deserving of being Queen's best friend.
Story
She is first introduced in chapter 1, where she raced the Queen's car 13 kilometers to school on a bicycle. It was because she accidentally bumped into Jae Gu with her bike on the first day of school that caused the initial bad tension between Jae Gu and Queen.
Eventually, Moon Young trains Jae Gu how to box in preparation for the preliminaries, and acts as his primary coach.
Fighting
Moon Young is the leader of the Boxing club at Wild's High. She lost weight from the year before, going from a lightweight to a featherweight in order to become faster and stronger and is currently trying to lose even more weight. She is extremely talented in boxing as remarked by her former coach, Park Jung Hyun. She's the series' 3rd best fighter, so far, after beating Choi Dal Dal in the Wild's League, therefore eliminating Dal Dal. She is currently fighting inthe semi-finalsof Wild's League against the only male contestant left, Yoon Hyun Bo.
Gallery